Read What Our Customers Are Saying About Us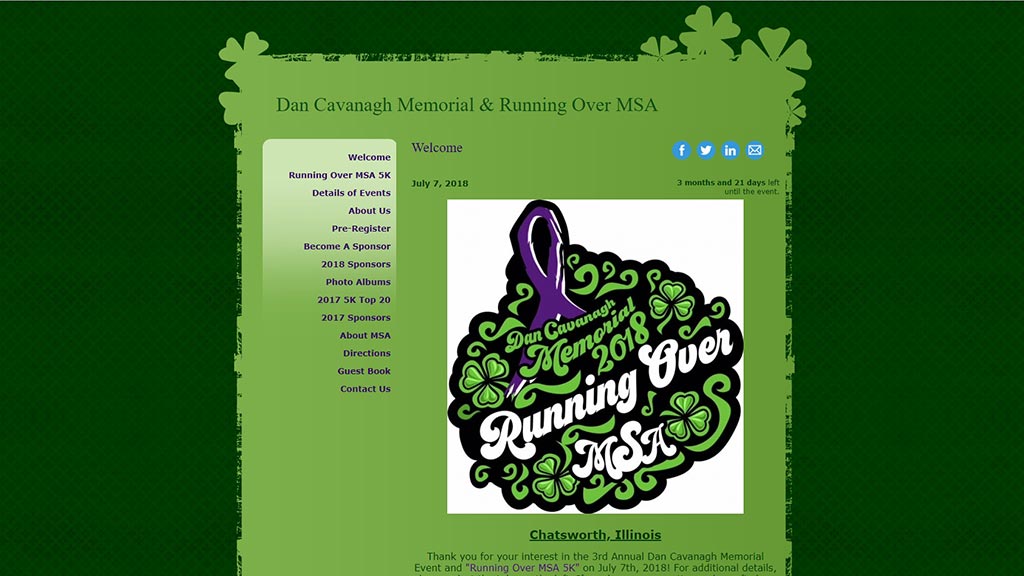 Danny Cavanagh Memorial Event
I loved how easy it was to set up our page! The page layouts and designs were great, and it was great that I really didn't have to know a lot about the tech side of creating a website. This website has been fantastic at getting our visitors attention and is easy for them to navigate. Also, the donation tab and registration tab have been fantastic! Thanks for making it so easy to create and maintain our fundraising page!!
Kacie Hunter, Chatsworth, IL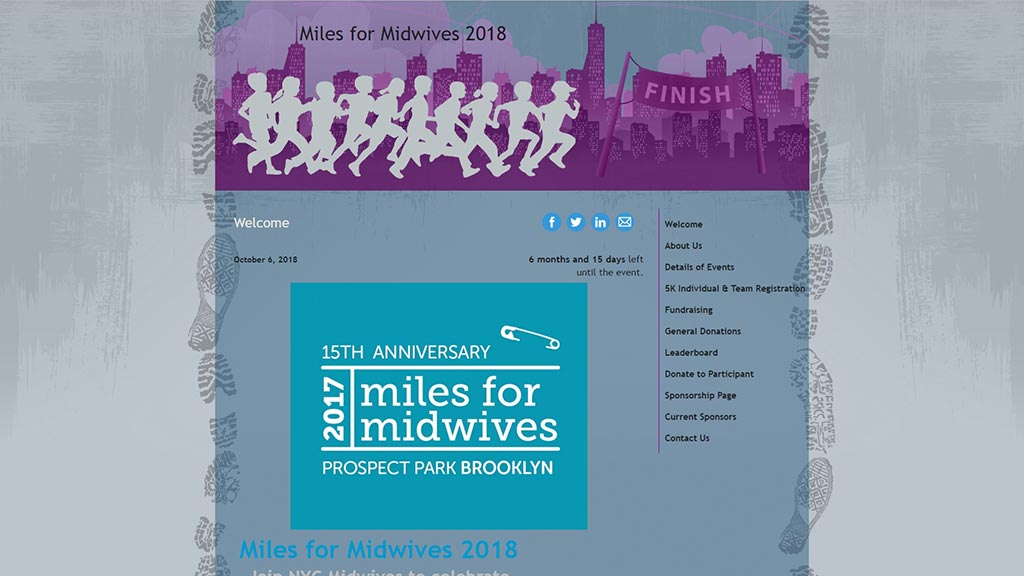 Miles for Midwives
MyEvent.com has completely exceeded my expectations! We had been using a different web platform for years that was difficult to use AND more expensive. I am so relieved to find MyEvent. I was able to build a beautiful, easy to use website very quickly for a 5K Fundraiser. I am definitely not a web design person, so it was a huge relief to find a website that was straightforward to use. Not only is the user interface easy to use, there are many different ways to customize the site that allowed us to make it work for our event. The customer service has been wonderful. Any problem I've encountered, a live person has been able to talk me through it just using the instant messaging service - I didn't even have to pick up the phone!
Alexandra Preefer, Brooklyn, NY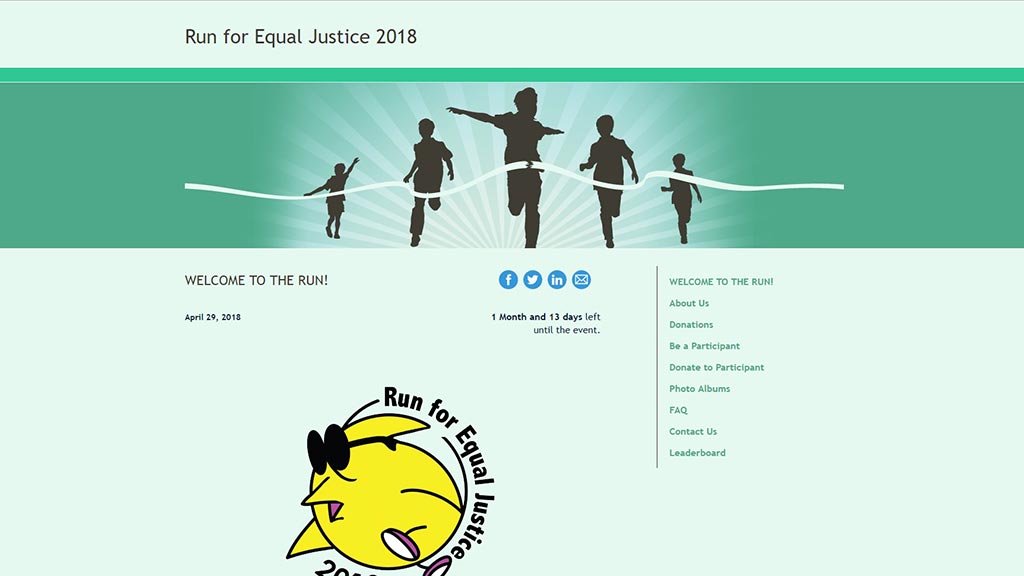 Run for Equal Justice
We really appreciate having access to such an easy-to-use and effective site builder for our annual 'Run for Equal Justice' fundraiser. The price is more than worth it. Last year was the first time we used the MyEvent site, and we doubled our participation and money raised over previous years when we had not had a website. This year, we once again more than doubled our participation and money raised because participants found it easy to sign up their relay teams and donors found it easy to give – couldn't have been better. We look forward to making a new site for next year's run!
Laurie Davenport, Tacoma, WA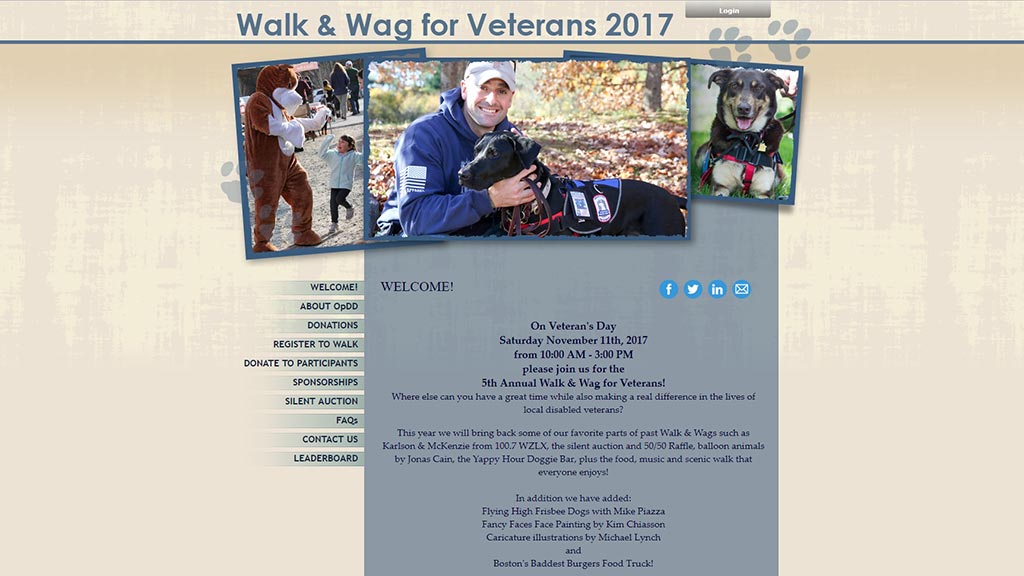 Walk and Wag for Veterans
I have to say what an absolute pleasure it has been to work with you guys these past two years. I never feel like I'm in it alone! Everyone there is always very helpful and supportive, and the response time is incredibly fast. Thank you!
Tisha B., Chelmsford, MA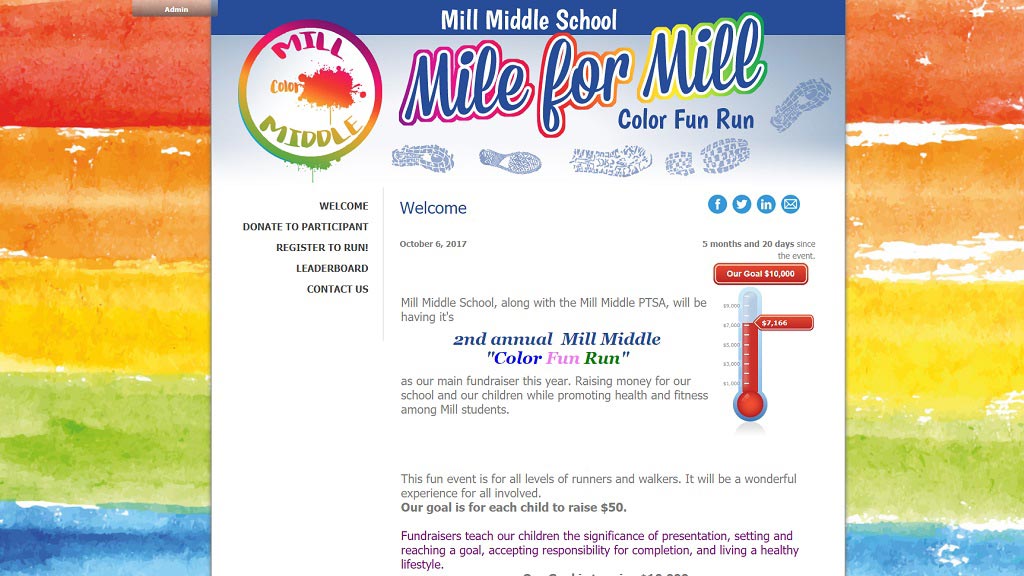 Mile for Mill Middle School
We had even more success this year, than we did last year! We love having a central website where we can distribute information as well as collect sponsor donations and registration for the run. We love how easy it was to work with MyFun Run and also it's really one of the better priced websites. They only kept 10% + 3% of the proceeds and other sites keep 25% - 50%. Thank you!!
Eliza Damstedt , Williamsville, New York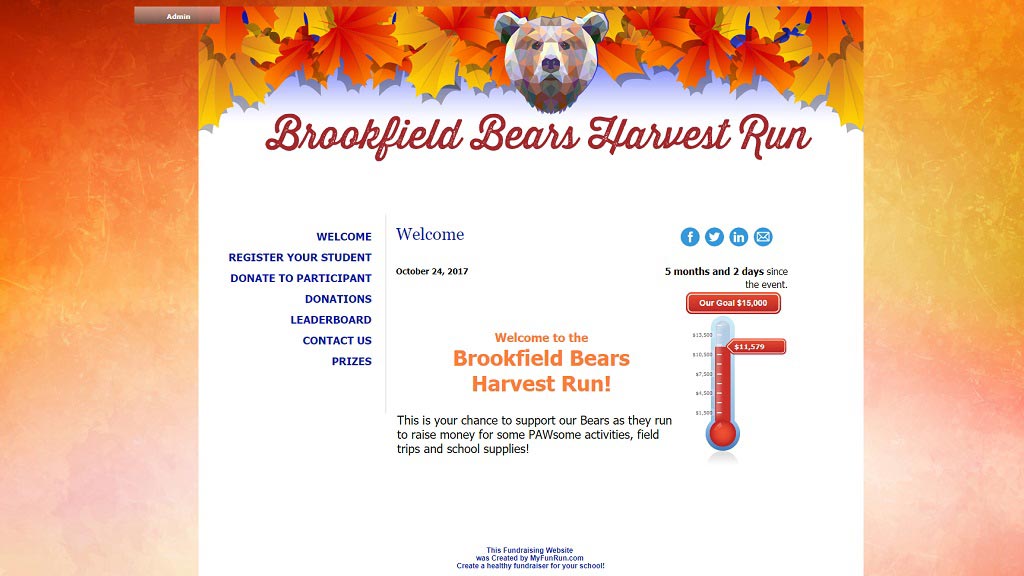 Brookfield Bears Harvest Run
The Brookfield School was very pleased with our experience working with MyFunRun.com! Everyone we had contact with was pleasant and very willing to help. When we had questions or concerns, they were addressed quickly and efficiently in a friendly manner. Any changes we requested to our site occurred almost immediately. The site itself was clear for our families to donate through, and very professional looking. It was also extremely easy to navigate as an administrator! Because of working with MyFunRun.com, we were able to create an event that was specifically tailored to our school community, on a schedule that worked best for us. The relaxed atmosphere encouraged more families to take part, and thus our event was very successful! We will definitely be using MyFunRun.com for our future events, and would highly recommend it to others!
Deanna Greenstein, Brockton, Massachusetts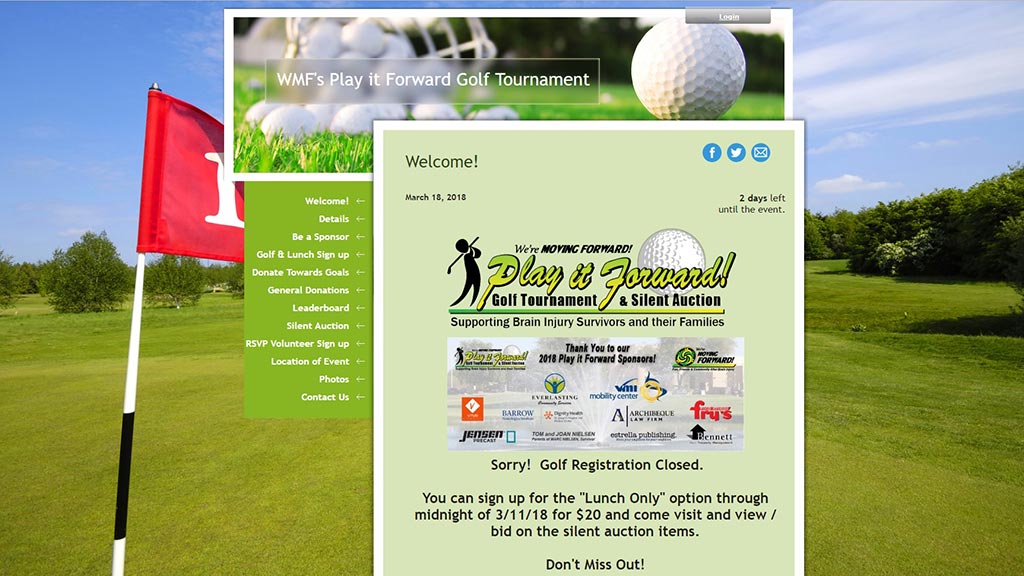 We're Moving Forward! Social Bowl
Not being tech savvy or having any website building knowledge at all, I was able to set up 98% of our fundraising website on my own. The other areas I was not familiar with, the MyEvent staff were more than happy to help with.
Ronda J. Alcorn, Gilbert, AZ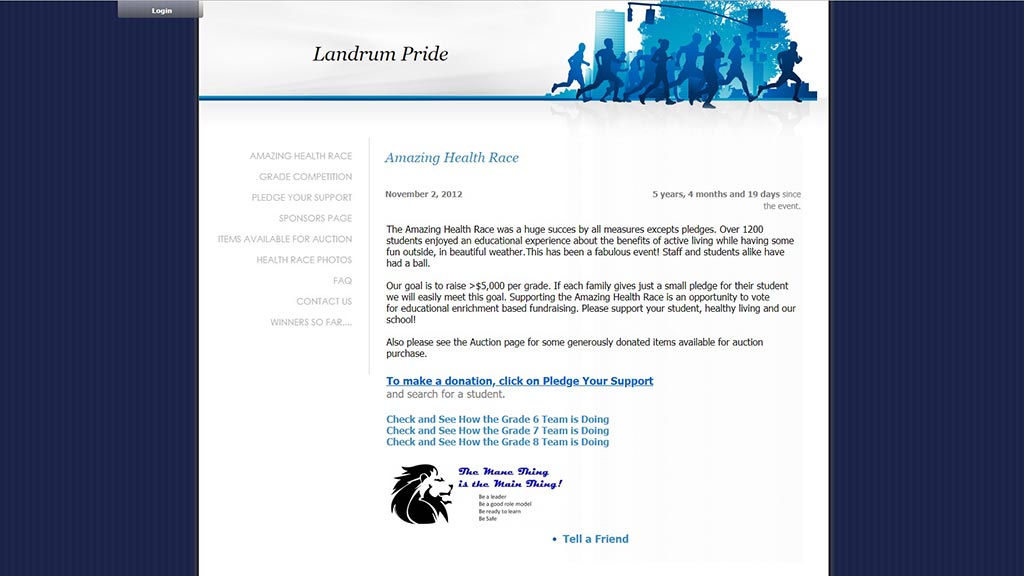 Landrum Pride
MyEvent.com made it so easy for us to build our PTO website. It is safe and secure and flexible. Customer service was always available and helpful if we needed them. Thanks!
Cathy Webb, Ponte Vedra Beach, FL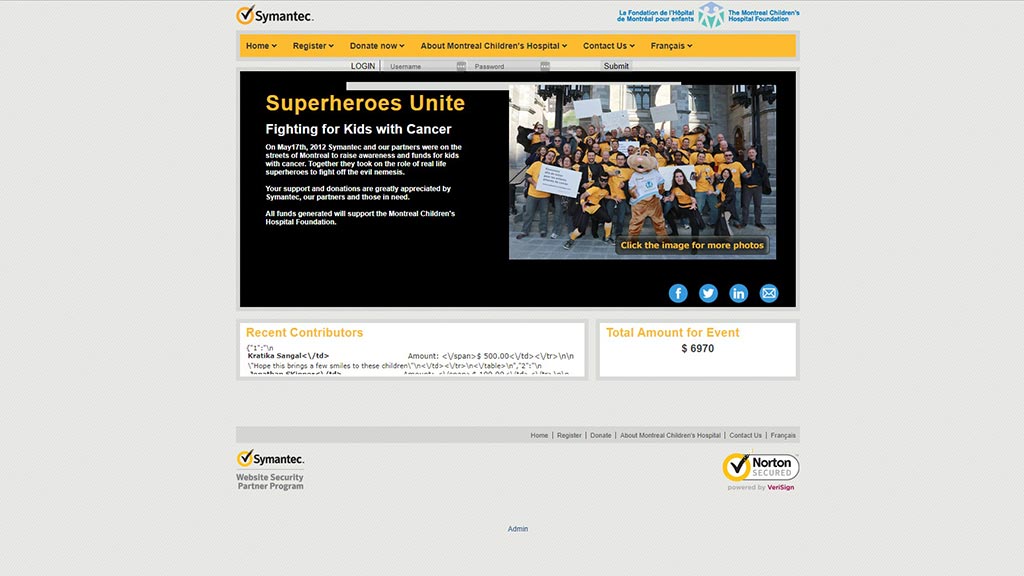 Symantec Gives Back
The symantec gives back custom fundraising site was a huge success for us...Our experience was fantastic from our end...Your developers were very responsive and worked closely with us to ensure all concerns were addressed so that our brand was properly represented. The site itself was an amazing asset for us as it gave us an opportunity to engage our attendees before our event and really got them excited about attending because of the buzz we were able to generate.... The site was also very impactful post event as it gave us another opportunity to remain engaged by posting the pictures from their event and updating them on the progress we made. Overall, we were thrilled with the experience and really happy that myevent.com helped us accomplish our goal of standing out as not just another conference...Thanks for support!
Alex Wong, Montreal, QC, Canada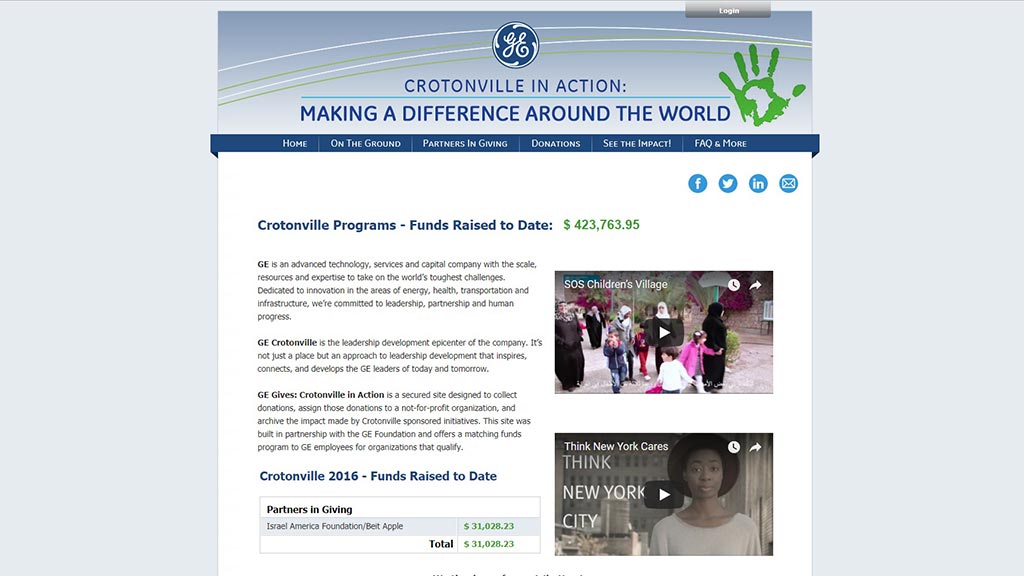 Making a Difference in Africa
I was extremely happy with the whole experience with MyEvent.com. They turned this fundraising project around from start to finish in one week and their customer support was excellent. Thanks to MyEvent.com we were able to reach our goal of raising more than $100,000 and in very little time.
Tricia Chorlog, Crotonville, NY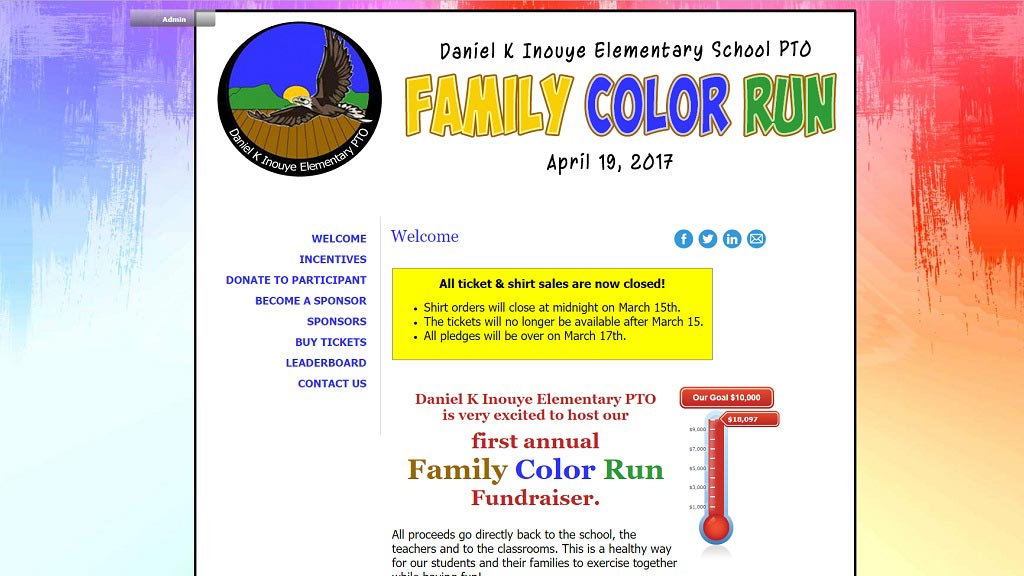 Daniel K Inouye Elementary PTO
Our fundraiser has been a huge success! We have almost doubled our goal and this is the first event that has every single class participating. I even had a teacher that rarely participates, win for most money earned in her grade. I can't wait to see how things go on April 19th! I am very happy we decided to use MyFunRun.com! Thanks!
Tricia Mitchell, Wahiawa, Hawaii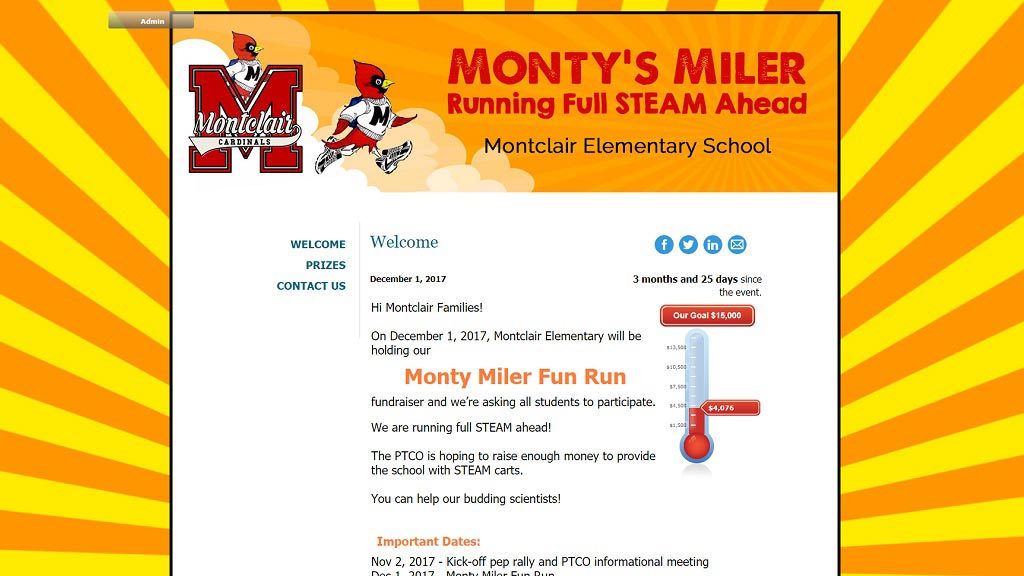 Montclair Elementary School
We are wrapping up our MyFunRun campaign and we are so excited with our results! We didn't hit our goal but it was pretty aggressive and we still raised more than we did when using the Boosterthon company! Thank you Liza for all of your help in this process. We look forward to doing this again in future years.
Amy Cunningham, Dumfries, Virginia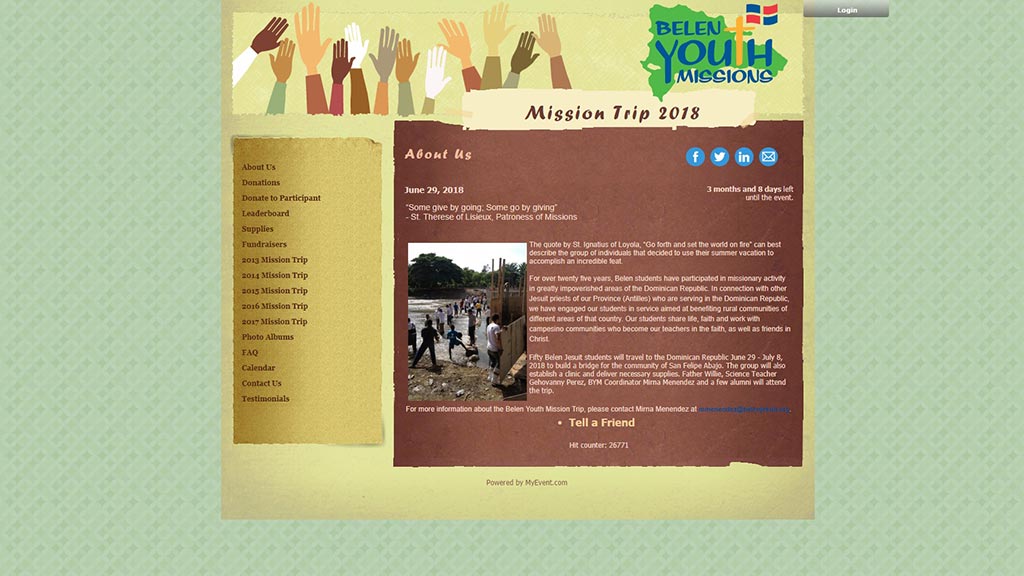 Mission Trip
It can be considered a daunting task to create a website and an even bigger endeavor when you need to tie in the complexities of fundraising pages but the team at MyEvent.com truly made it easy! The backend of the website worked seamlessly and whenever I had a question or concern a member of the MyEvent team was always available to answer my questions or solve a problem. I'm truly impressed by the professionals that work at MyEvent and the functionality of the website and wholeheartedly recommend them for your fundraising needs!
Teresa Martinez, Miami, FL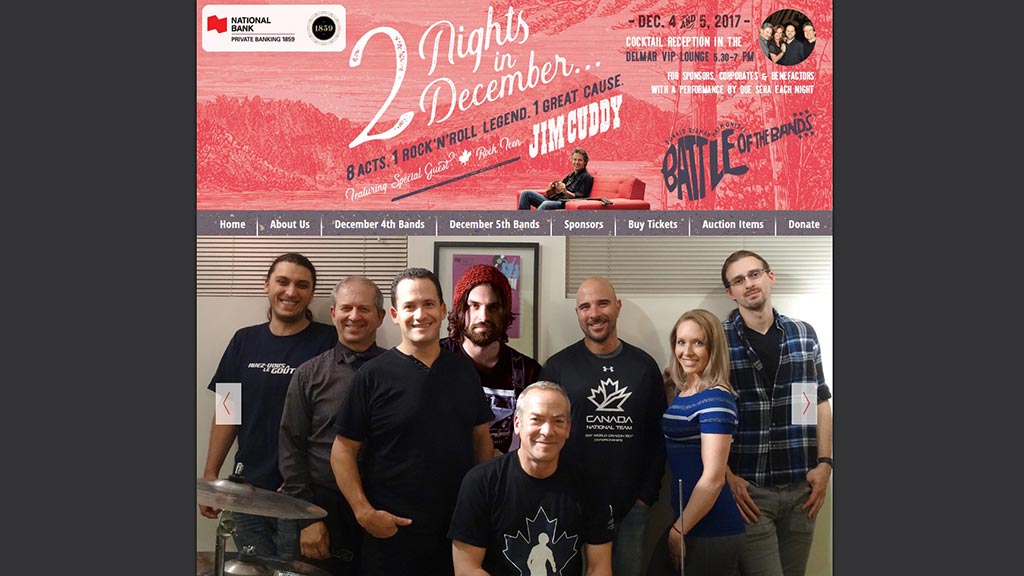 Battle of the Bands
We have used MyEvent.com for the last 5 years to help us fundraise and sell tickets online to our annual Battle of the bands fundraiser for the Donald Berman Maimonides hospital. Their all in one platform has been wonderful and the customer service is excellent. The bands raise money through their fundraising pages and we sell tickets online for both nights. Highly recommend MyEvent.com
Karen Flam, Montreal, QC, Canada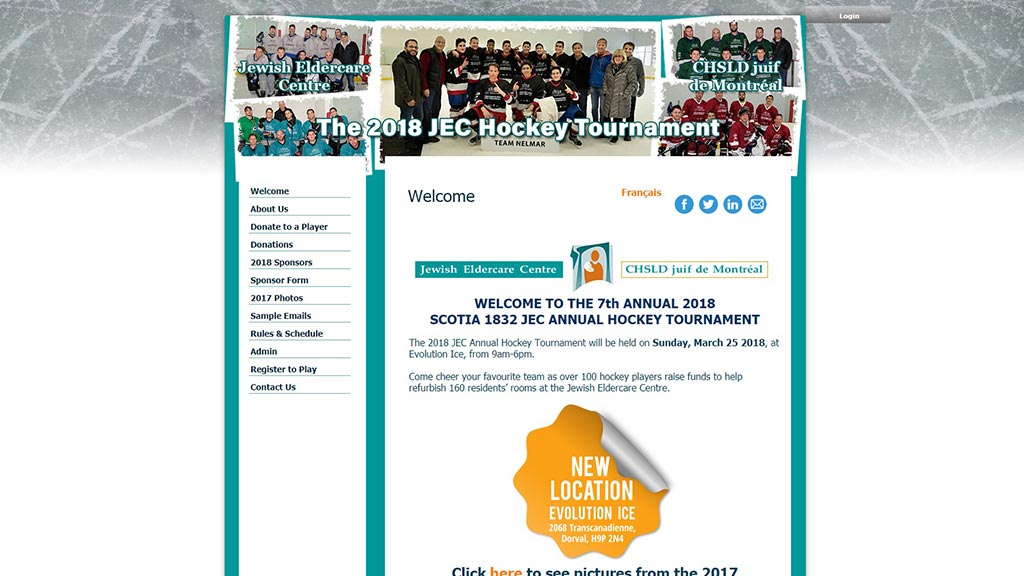 JEC ANNUAL HOCKEY TOURNAMENT
MyEvent has been a great platform for managing our annual hockey tournament for our senior residence. 8 teams register and each player gets their own fundraising page which they share with their social networks. The website is very easy to use and if we ever have a question the customer support has been outstanding. Keep up the good work.
Lisa Kasner, Montreal, QC, Canada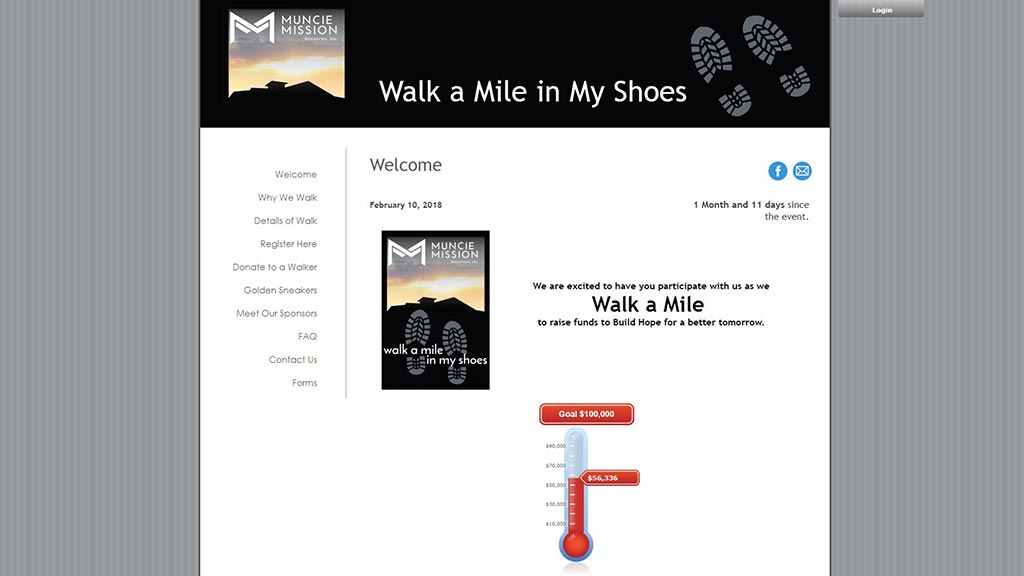 Walk for Muncie Mission
Several years ago we began looking for event management sites for our Walk a Mile fundraising event. We needed a system that would allow for registration of teams, team members and individuals. We also needed a site that would allow for online donations and social sharing/fundraising. What we found was MyEvent.com. You provided everything we needed at a reasonable cost and it was super easy to put together. There were many visual themes to choose from and whenever we needed assistance it was really just a quick email away.
Jeannine Euckert, Muncie, IN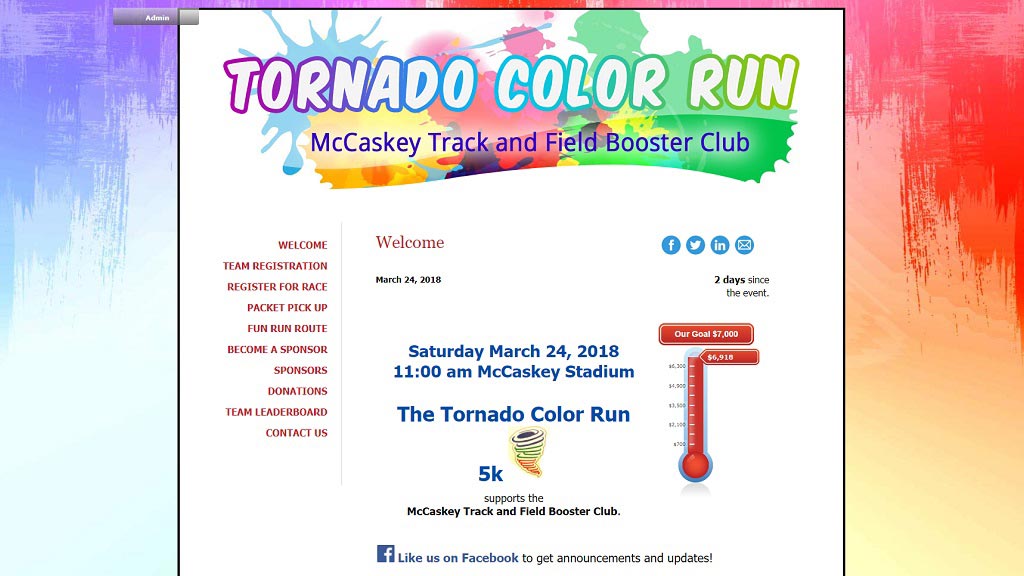 McCaskey Track and Field Booster Club
It was delightful working with Liza and Steven from MyFunRun. The website was very user friendly for our event participants. They were extremely responsive anytime we needed a change made on the website. They were also really receptive to our idea of a "Team Challenge". They created it on the backend and the idea was very easy to implement. Highly recommend using this company!
Amanda Fowler, Lancaster, Pennsylvania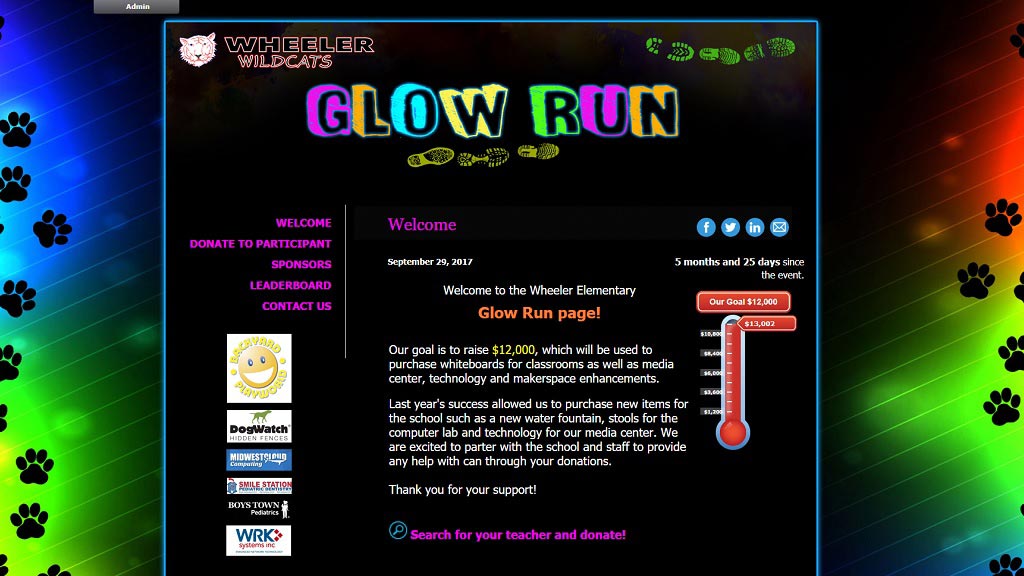 Paws, Set, Glow! - Wheeler Wildcats
After researching a few companies to help with our 1st fun run, our PTA decided to go with MyFunRun. We especially liked the ability to customize our event materials and website, the fact that it's non-invasive and non-disruptive to the school, and they had the lowest fees. Our fun run support was great – the creation of our website was very easy, we received fast and helpful responses to any questions we had – it was an overall great experience. We have already recommended MyFunRun to other organizations. Thanks for helping us make a fun and successful event for our families!
Jessica Zulkosky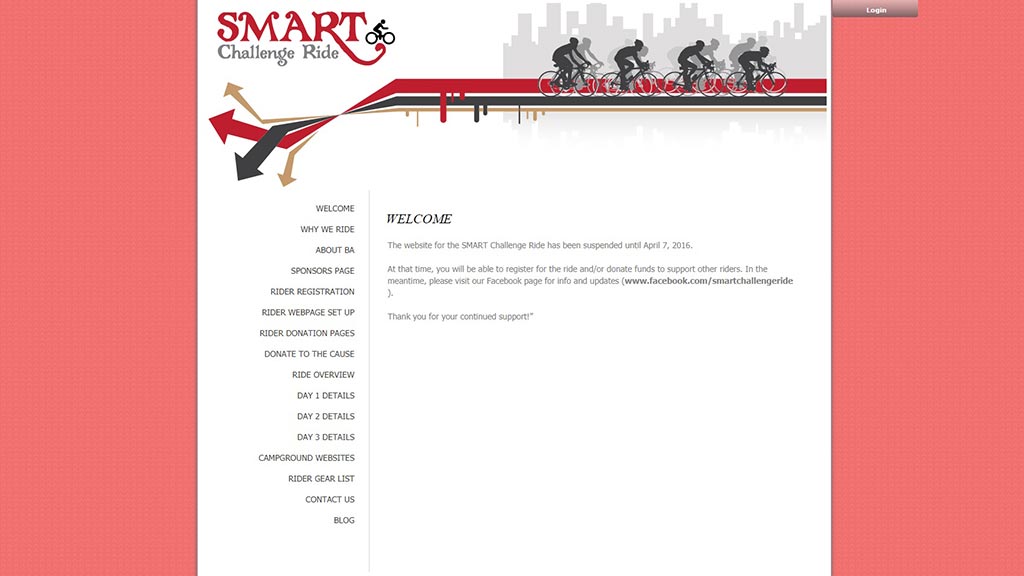 Smart Challenge Ride
I have been incredibly pleased with your website and service. I am not technically savvy at all. However, your formatting made creating a website really easy. In addition, I always had live support whenever needed. As an example, I wanted music on the site and one of your people talked me through converting and MP3 file to an MP4. Pretty cool. Also, when I first researched this, you guys were significantly less inexpensive than other common fundraising website platforms. For the price, service, and quality of the site, I would strongly recommend MyEvent to anyone that asked.
Joseph S. Burgess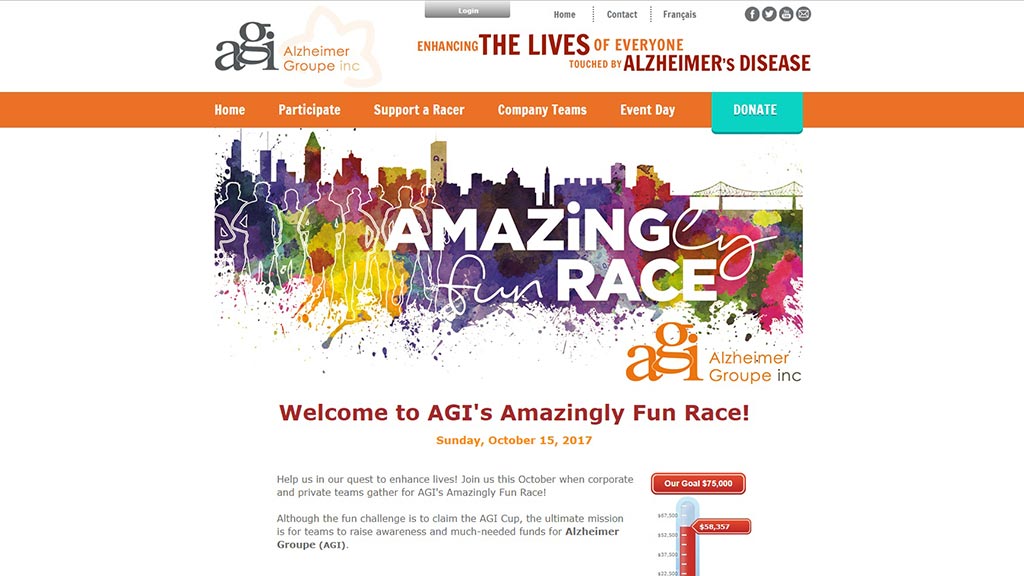 Amazing Race
We have used MyEvent for many years for many events and fundraisers. We have done several peer to peer fundraisers including bowling with the stars, a celebrity fashion show and most recently an Amazing race scavenger hunt. MyEvent has an all in one platform that suits our needs very well and excellent customer support. Their service is excellent and affordable and we highly recommend them.
Linda Israel, Montreal, QC, Canada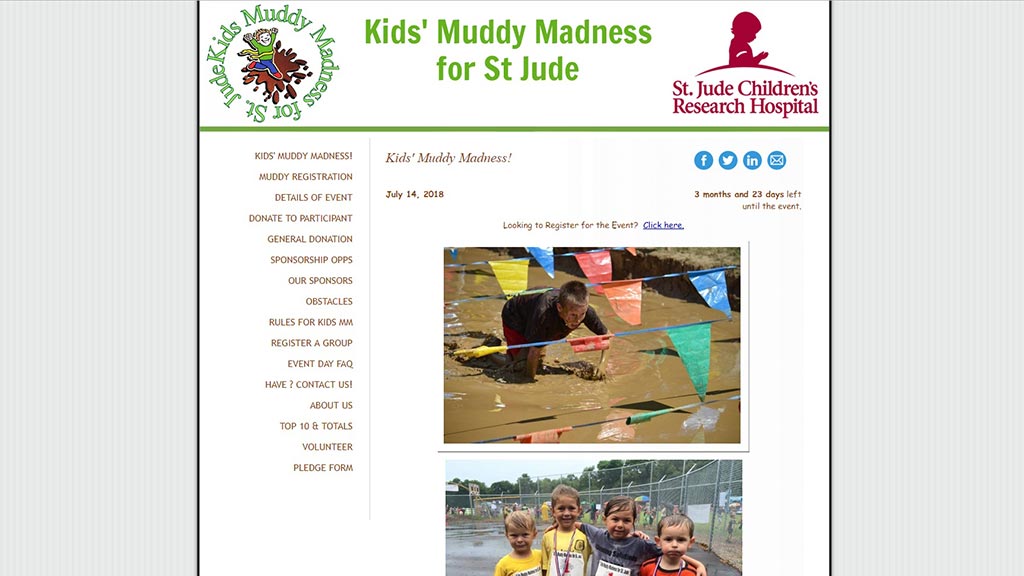 Kids' Muddy Madness
Our charity event is completely run by volunteers. MyEvent.com has stayed with us as our event size continues to grow past 1500 participants! We use MyEvent for our registrations and eCommerce both. The online chat support is fantastic.
Michelle Gaydos, Montreal, QC, Canada
Cherokee Fitness Challenge
As the fundraising director for my kids school Association of Parents and Teachers for the past 2 years I have had the opportunity to utilize the Myevent.com platform for our student led fundraising effort each year, the Fitness Challenge. The event has been a huge success for our school both in participation and fundraising. Most importantly the kids love it! They love the opportunity to raise money for their school and the addition of the myevent page the past few years has been a great tool for our families. It has allowed kids to raise money online from friends and family in addition to the door to door aspect. In today's world of technology, the myevent.com site has been integral in our fundraising success. The site is easy to use both as the administrator and for our users, the staff at myevent is incredibly responsive and helpful. I recommend this to any organization looking for a fun and easy way to raise money online.
Kate Fassett, Phoenix, AZ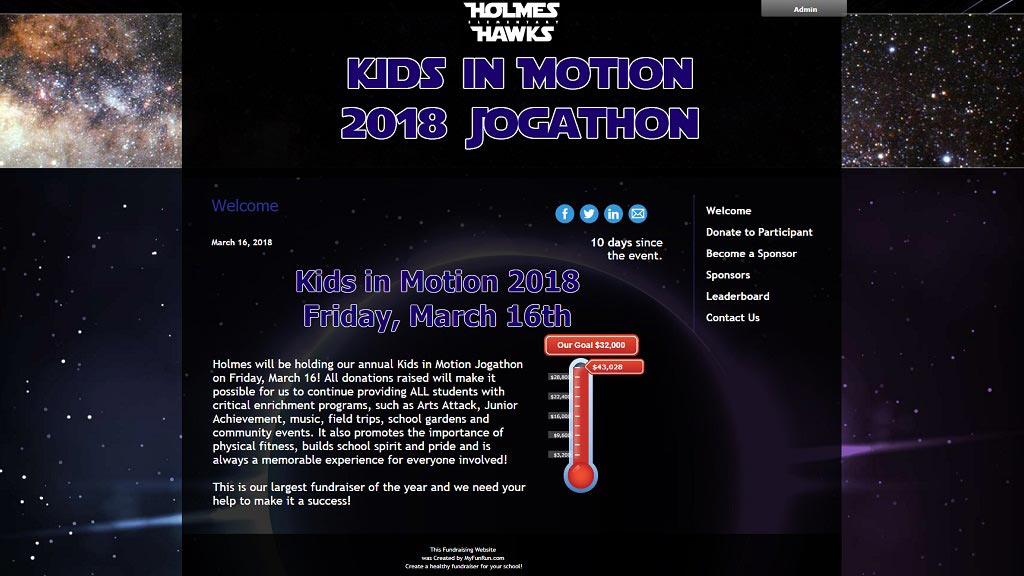 Holmes Elementary H.E.R.O. run
We are officially wrapped on our fundraiser and so happy to say that it was a HUGE success!! We blew our goal out of the water, and a large part of that was due to your great partnership and support. I want to thank you both for such a seamless and smooth process throughout our whole fundraiser. You were both extremely responsive and attentive at every turn, and I personally, am very grateful. We will definitely be back to partner with you next year! Thank you again so much for a great program!!!
Deena Carney, San Diego, California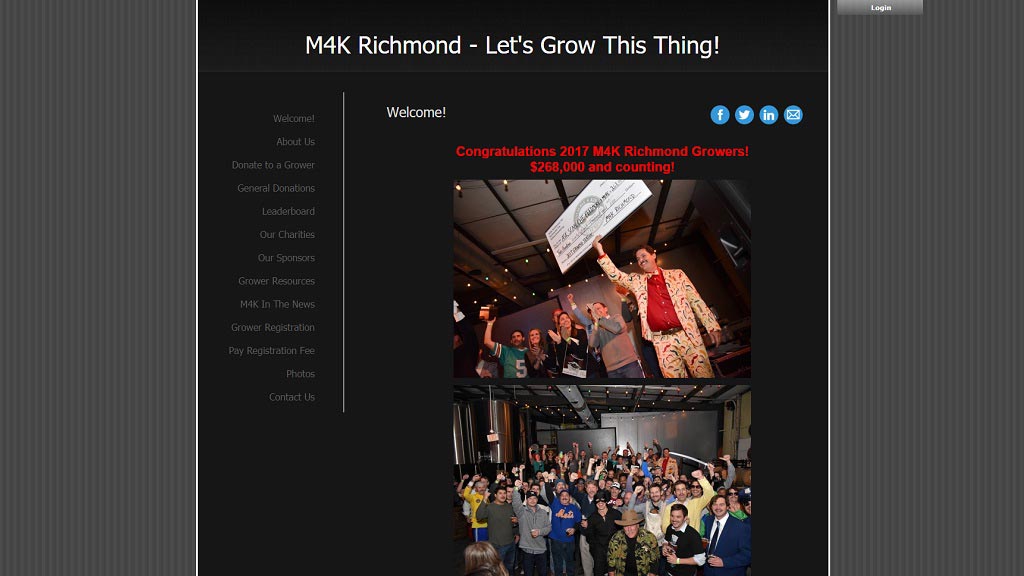 M4K Richmond - Let's Grow This Thing!
Overall we love the functionality and flexibility the website and service provides. We are able to easily and efficiently register participants, capture donations, and share content with our community. Our annual donations have increased over 10X since we began leveraging the site 7 years ago. The My Event team is always very helpful and responsive to any questions or issues we have.
Ben Keefer
Need help? Please contact our support team at 1.877.769.3836.